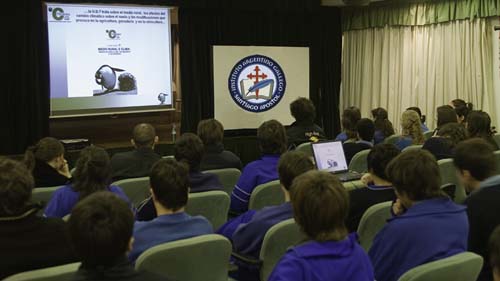 The
documentary
on the first pilot experiences conducted by the Climantica project in the educational system in Cuba is already available on
Climántica TV
. On 29 and 30 May 2008, Climantica started its pilot activities in the educational system in Argentina. These activities were aimed at the secondary education students of "Santiago Apostol" school in Buenos Aires, where more than 80 per cent of the students have Galician ancestors. The activities with the students were carried out on 29 May and were aimed at checking out the students' background knowledge on causes, impacts and possible solutions to climate change. Two types of activities were organized:
A debate on causes, impacts and solutions to climate change in which all the students took part.
Activity with 15-16-year-old students. It consisted of two different stages: In the first, students worked in small groups in order to study a card exemplifying a particular issue. The work group entitled the card giving reasons for that title according to what the card suggested to them in relation to causes and/or impacts of climate change. Finally, all the groups shared their points of view with the other groups.
On 30 May there was a lecture aimed at the school community interested in the project.