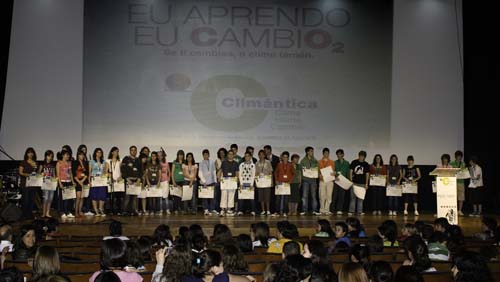 The First Climantica Conference for Students, organised by the Galician Regional Ministry for the Environment, was held at Santiago de Compostela on the 21st of June 2008. During this event about 300 students from all over Galician schools met there to discuss issues such as measures to fight against climate change, sustainable development or respect for the environment.
Secondary School Students coming from the four Galician provinces took part in this activity and exhibited the pieces of work submitted to the second edition of the Climantica Awards. These awards were set up in the framework of the educational programme that aims at raising students' awareness on climate change and how to tackle it.
During this session that was held at the Conference Centre in Santiago, students exhibited the pieces of work they had submitted to these awards in three categories: Literature –narrative, poetry and comic-, Multimedia –shorts, Power Point presentations, interviews, theatre and singing performances-, and Visual Arts –Photography, painting and posters-. This public exhibition also helped participants to understand young people's view on Climate Change and their proposals to protect the environment and to promote sustainable development.
In addition, the Climantica Conference has given students from different areas in Galicia the opportunity to exchange the students' viewpoints by exhibiting their work. Winners' projects, among which there are quite significant tittles such as "Climate Change and its impacts", "If we change, climate changes", "It is foolish not to protect it", "Why cannot man manage to sustain the Earth?" or "A day in a tree's life", show a very high standard and good quality. All these essays were published in the magazine CLMTK, which was given to the participants during the Conference and it is going to be available on this website soon.
This meeting was also aimed at parents and teachers who came with students. They took part in activities such as a discussion board on "Environment and Diet", dealing with issues such as Ecological Agriculture and Diet, Ecological Medicine or Sport.
Awards
In the course of the Conference, 60 students -30 from Secondary schools and 30 from Sixth Form schools- received the prize certificates from the Director General for Educational Planning and Innovation and the Director General for Sustainable Development. The prizes consisted of a five-day stage in an Environmental Education facility in Galicia. This year the Secondary school students stayed from 23 to 27 June in a facility in San Xoan de Río, Ourense, and the Sixth-Form students stayed from 8 to 12 September in an facility in Fragas do Eume Natural Park. See
programme
.